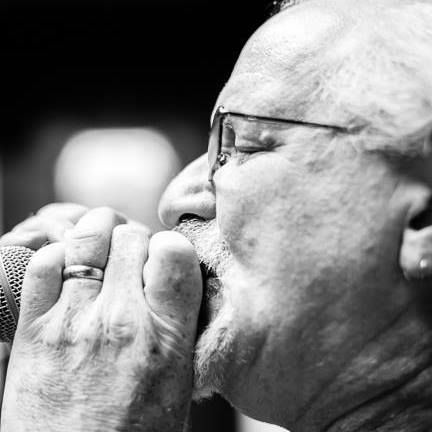 Marck was born in 1956 and grew up in East London. He went to Wanstead High School where he distinguished himself by not distinguishing himself. That was, until the school acquired a computer in 1973, at which point Marck, to all intents and purposes, vanished from view.

If anyone cared to look, they would have found him up to his knees in punched paper tape, spouting 39 bit words of 5 bit murray code and swearing in fluent Elliot 803 machine code at anyone who walked through the door and expected to use 'his' machine. Much as he does to this day. This was a computer that took 2 rooms knocked together to house it and, on a cold winter morning, literally needed a kick start to make it work.

He got his 'A' level in Computing Sciences and went on to work on IBM 360 and 370 systems, working his way up through the ranks from operator to programmer to senior programmer with such organisations as the London Electricity Board and C.T. Bowring until, in 1977, while working as a sub-contractor on the System X Telephone Exchange project at ITT Footscray, he was seconded to work on the newly arrived microcomputer from IBM - the 5110. Hint: The model number of the first PC was 5150, the XT was 5160.

Within 6 months, Marck was freelancing has hardly looked back since.
---
In 1978 Marck was involved in writing the UK's first commercially available accounting software for the Apple II.
In 1980 Marck was working on medical and pharmaceutical software on Commodore PET 8000 series systems
In 1981 Marck was team leader for the (later) infamous and much maligned 'The Last One' project to create the world's first program generator.
In February 1984 Marck founded Datasoft with John Clifford, a colleague and old friend from the TLO team, and together they produced Datatalk version 1 in 6 months written for the IBM PC in 'C' and assembler.
Over the years at Datasoft, Marck was responsible for many UK technological firsts for the company including remote control software (Teleclone - a MAJOR flop!), TR29 class 1 fax software for DOS and TSR/pop-up comms software.
In September 1994, Marck resigned from Datasoft to resume his freelance career and now works from a small cupboard under the stairs, writing systems and applications software on demand.
Marck's experience in writing and producing shrink wrapped software for bulk distribution is amongst the best in the UK.
---
Projects he is involved with currently include:
Supervising support mailing lists for RITLabs The Bat!
Advising on production of software for resale
Developing softare in various languages for various clients
Consulting on English language translations of software and documentation for international companies
Setting up the odd database or web site for various clients
Advising on IT for local business
---
Then there's the languages and APIs:
C&G, IBM 370, 6250, 80x86 and many wierd ones along the way!
1973
A bit
IBM 370/158
1976
No
IBM 5110, AppleSoft, Commodore Pet, Tandy TRS80, MS, GW, Quick, Word/Macro, Turbo, VBA, VB (1-3,5,6 but Delphi's here to stay! Praise the Borland) although 6 looked a lot better, it's still ... you know
1978
If I must
K&R, Lattice, Aztec, Borland TC1-3
1984
Yes
Borland 2-3, MSVC 1, 1.52, 2, 4, 4.1, 4.2, 6, Visual Studio, VS .NET 2003, VS .NET 2005, VS .NET 2008, C++ Builder 4
1987
You Bet!
VS .NET 2005, VS .NET 2008
2006
Yes!
(Object Pascal) up to 10.1 Berlin all Client/Server
1995
Yes
3.1 API, SDK and DDK, Win32 API, SDK and DDK for NT351, NT4, Win2K, XP, Win 2003 Server, Vista, 7, 8, 8.1, 10, Win95, 98 and Me, WWF, XAML, Forms
1990
Yes
Access 1 and 2, Paradox, DBase, Clipper, Oracle 8, MS SQL Server 4.2, 6.0, 6.5, 7, 2000, Interbase, MySQL
1992
Yes
HTML, CSS, XML, OPML, Java, Javascript, PHP, ASP, ASP.NET and HTTP, SMTP etc. protocols
1996
Yes
---
---